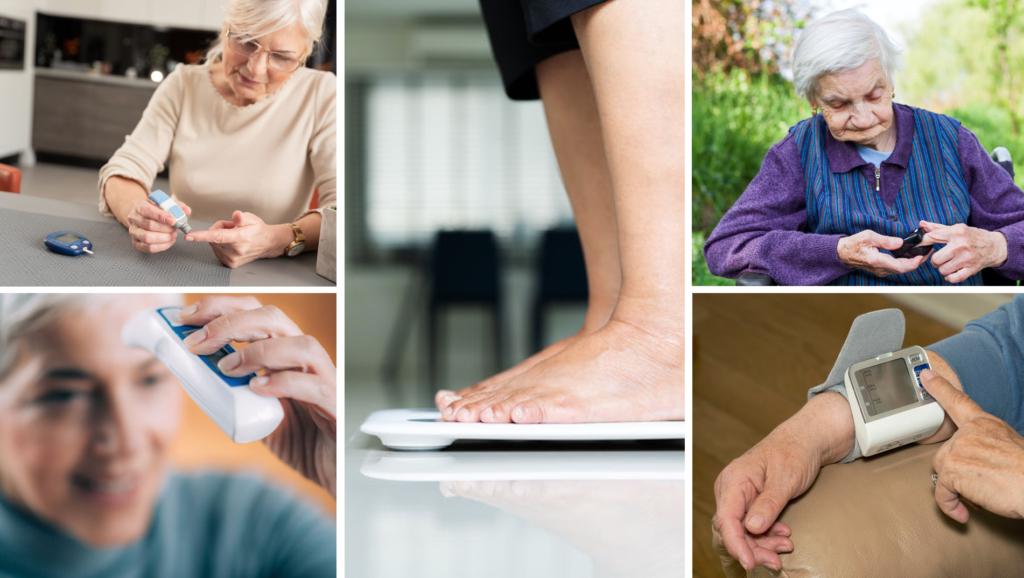 In our always-on, go-at-1000-miles-per-hour, gadget-laden, technology driven world – it is no surprise that technology for the elderly has taken a center stage, each promising better self-management ability for the elderly.
However, the challenge is sorting through the hundreds of thousands of products available in the market. There is added confusion from the constant battery of advertisements promising the next best thing for your aging-in-place Mom or Dad.
Almost all the modern gadgets require some form of interaction with a mobile app and the elderly family members have the additional challenge of using and interacting with these apps. On an average, people over the age of 65 spend about 51 hours per month or a little under 1 hour 45 minutes per day on a mobile app. People aged 65 and above have on an average about 20 apps on their phones, but use less than half of those. Before you purchase, it is important to check with your elderly on their ability and openness to using companion mobile apps.
While, it is quite easy to go all crazy with the gadgets and mobile apps, here is a list of few must-have and highly essential gadgets for ensuring health and wellbeing for your aging-in-place elderly family member.
Scales
Blood Pressure Monitor
Thermometer
Pulse Oximeter
Glucometer
Scales
Whether analog or digital, scales to measure weight periodically and regularly are the most crucial gadget to have in home. Scales are necessary to track unintentional or involuntary weight loss. A number of factors can lead to unintentional weight loss and can often reflect disease exacerbation especially in people with heart or lung diseases or can indicate some underlying undiagnosed illness. There are a variety of scales, analog or digital types available in the market and to purchase online.
If using an analog scale, it is necessary to keep a weight journal to record weight regularly.
Elders are recommended to check their weight once a week and once every 6 months, professionally.
The Salter Academy Professional Scale is an analog weighing machine. It has a larger dial, which makes readings easier. It comes in a few different colors and models that can read maximum weight measurements up to 400 lbs.
There are a variety of digital scales in the market and some offer additional features like measuring BMI, body fat content, hydration levels and more. Digital scales often come with companion apps that will automatically record and keep track of your weight.
A large majority of these digital scales are designed to cater to the fitness industry and weight loss, often including advice for nutrition, lifestyle and dieting that may or may not be applicable to elderly.
Here are a few friendly digital scales for the elderly from some of the well known brands like Omron and Withings.
Omron Body Composition Monitor and Scale with Bluetooth Connectivity – 6 Body Metrics & Unlimited Reading Storage with Smartphone App by Omron
Withings Body+ – Smart Body Composition Wi-Fi Digital Scale with Smartphone app
Blood Pressure Monitors
The next most important gadget that an elderly must have in their home is a blood pressure monitor. Blood pressure does not give any outwards signs of illness, but prolonged, undetected high or low blood pressure can cause major health problems. Developing a sustained habit of measuring blood pressure every day, not only goes a long way in ensuring a health and well-being, but also can help in preemptive detection and prevention of critical health conditions.
There are several types blood pressure monitors available in the market. However, using wrist-based or cuff-based BP monitors are the easiest for elders.
Elderly are advised to measure their BP once per week at home and at least once every 6 months professionally.
Thermometers
Most elderly are highly susceptible to infections. According to this Orford University Press paper, fever, the cardinal sign of infection, may be absent or blunted 20%–30% of the time in the elderly. This can lead to delaying diagnosis and affects mortality. Often, fever of unknown origin is a cause of concern.
When it comes to measuring temperature of elderly, ease of use, speed and accuracy are essential. Therefore, the non-contact forehead thermometers that use infrared technology are the best options. These thermometers are convenient and are designed to help self-use by elderly. They do however require battery replacements every 2-3 years, depending on usage.
It is recommended that the elderly measure their temperature every day or at least once in 3 days. Additionally, it is recommended that elderly consult their primary care doctor for reporting on temperature variations.
Pulse Oximeters
Pulse Oximeters also often known as Sp02 meters help measure the oxygen saturation in your blood. Maintaining a consistent record of oxygen levels helps in detecting any abnormal changes and prevents problem from becoming critical. Measuring oxygen levels is important to maintain heart and respiratory health. Most importantly, it is required in tracking health of people for heart attack, heart failure, COPD, lung cancer, pneumonia and more.
There are several type of pulse oximeters in the market. Most pulse oximeters use photoplethysmography. An infrared beam is passed through the skin of the fingertip, where the device is placed. An internal optic sensor analyses the light beneath the finger to determine the SpO2 or oxygen saturation in the blood and displays it on the screen.
Here are some recommended brands of Pulse Oximeters for in-home use.
Zacurate Pro Series 500DL Fingertip Pulse Oximeter Blood Oxygen Saturation Monitor with Silicon Cover by Zacurate
Glucometers
According to American Diabetes Association, one in four Americans over the age of 60 has Type 2 Diabetes.
Diabetes, is a life long condition and requires treatments that extend for several years. It is one of the conditions that requires the most changes in lifestyle, diet and medication. Most elderly people usually are at higher risk of hypoglycemia (low blood sugar) resulting from diabetes medications. Therefore checking glucose levels regularly is required not only to ensure that the blood sugar levels are in control but also for monitoring conditions that might lead to a spike or a crash.
Therefore, a glucometer is another must-have gadget for your diabetic elderly family member.
With regards to frequency and timing for testing glucose levels, It is best to seek advice from the Physician or Primary Care provider.
Here is a list of some of the glucometers available both online and in your local drug stores.
As expansive of a list this is, it is important to select products that meet the lifestyle of the elderly. Habitual and consistent use is necessary. The following are other factors to consider while making a purchase.
Ease of Use
Less Maintenance (like frequent battery replacements for ex.,)
Interactive factors such as big and bold dials, bright and well lit display screens
Insurance Coverage or Eligibility under FSA and HSA plans
Given most of these gadgets are reasonably priced, it is often easiest to purchase them directly. They also make a perfect gift for many occasions like Mother's Day, Father's Day, Grandparent's Day, Birthdays and Christmas Holidays.