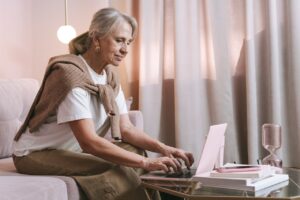 After retiring, you may find that you would prefer to live in a smaller home. Paying for the maintenance on a large property can eat up your savings, and you might want to free up your budget for other things. With the support of a knowledgeable real estate agent, you can buy a smaller house in your area and enjoy the benefits of downsizing as a senior! The resources linked below by our team at Zemplee will explain how to tackle house hunting, decluttering, and more to get your downsizing process started!
Downsizing for Seniors:
Finding Your New Home
So now you're on a mission to close on a cute new home, and these resources will help you start house hunting!
First, you'll need to find a real estate agent who understands your needs and knows the local market well.
You're also concerned with selling your home, so make a few key repairs to land a buyer. This might be for plumbing, electrical, HVAC and/or even your yard. Use search terms like "local licensed plumbers near me" to find reputable pros in the area.
Determine how you'll finance your new home. Will you use the profits from your home sale, or will you apply for a mortgage?
If you're a veteran, it's likely you're eligible for a no-downpayment and low-interest VA home loan, which is a better option than conventional mortgages.
Downsizing is great for your retirement home because it's great for your budget!
Paring Down Your Belongings
Settle into your new minimalist lifestyle by saying goodbye to the things you no longer need. Here's how to tackle the decluttering process.
Block off time in your schedule to clear out the clutter of every room in your home, and sort out what you can let go of. (one of the joys of minimalist living is decluttering)
Consider scheduling a weekend garage sale so that your neighbors can stop by and purchase your old belongings. Any cash you generate can go toward paying for moving supplies or a moving company.
Want to donate some items? Figure out what the thrift shops in your area will accept.
Moving House
Moving day is officially on your calendar and you are ready to downsize. These tips will guide you as you start getting ready to settle in!
Pack up everything you decided to keep, and if you need extra boxes, ask your loved ones if they have any to spare. You can also buy boxes at places like Lowes or Home Depot.
After everything has been transferred to your new home, follow these tips for unpacking and getting organized.
Even in a smaller home, you can still create a lovely aesthetic by decorating according to these principles of minimalist design.
Final Reasons
For countless seniors, owning and maintaining a large family home becomes too much work. Downsizing is a convenient solution! With these tips, you'll be ready to sell your home, find a trustworthy real estate agent, and say goodbye to the items you no longer need. Enjoy living large by downsizing!
From, The Zemplee Team